Def Leppard
Always annoyed me because they were from sheffield, yet tried to sound really american. They were also really 'precise', and all looked a bit too clean-cut for my liking.
Good album production (for the time), but a little too tidy if you ask me.
I saw
extreme
at the astoria once before they were a success and it was flipping brilliant. Then I saw them 6 months later at the Hammersmith Odeon after they had been number 1 in the charts, and they were so clinical and polished I wanted to vomit. I also met them briefly at one of those record signing things, when I was a jobbing session guitarist. They were dead arrogant and miserable. A few weeks earlier I'd met
Little Angels
, and they were really nice guys.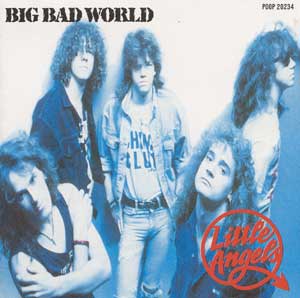 Where did all the rock n roll go?
I will usher in a new era of appreciation for permed-hair and spandex with my new game. Just you watch.
edit:
If you are liable to split your sides at the sight of pompous heavy metal bands DO NOT CLICK THIS LINK:
http://www.crimson-glory.com/files/media/wallpaper/CGwallpaper8.jpg
I actually saw them live once. Supporting someone else. Can't remember who. might have been anthrax or testament.
Edit Edit:
holy crap this ones even more awesome:
http://www.crimson-glory.com/files/media/wallpaper/CGwallpaper7.jpg