Yesterday I bought a nearly new car. It was expensive *ouch*, but its lovely, a peugeot 307 1.6 with aircon(w00t). Its also a very nice silver colour, similar to my cat jadzia (see below)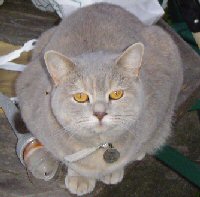 Starship Tycoon is selling very well, 4 copies so far this morning, which is superb. Bugs have been reported but I've spent this morning fixing them and I'll be uplaoding yet another version soon. I hate patching a game after release, but without the resources for a full test dept, I just can't compete with thousands of players trying out the game in terms of finding bugs.
My bandwidth is still scarily high, but hopefully it will tail off slightly now. Even though I have banner ads ready and the money set aside, there simply is nor eason to do any advertising for the game at the moment.
I've been thinking about what to do next, and I'm a bit gutted to see that SimTower is basically exactly the game I'd like to do. I'll probably be mega busy with the Movies from now on anyway.